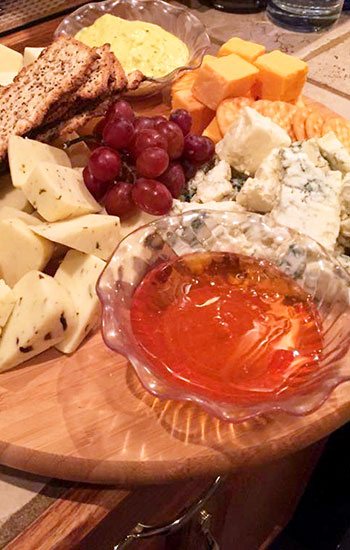 A full service catering company serving the South Hills area. We specialize in events from 12-100 people.
Corporate functions • Luncheon meetings • Sporting events • Box lunches • Private parties • Birthday and graduation parties • Etc.
Shrimp Cocktail (16-20 size)
Small - 6 Dozen $69
Large - 12 Dozen $119
Homemade Crab Cakes Maryland Style (5oz)
12 Cakes $80
6 Cakes $45
Deli Trays
(12 person minimum)
Deli style meats and cheeses paired with olives, peppers, and pickles. Served with fresh bread and condiments. Your choice of 3 meats and 3 cheeses. $6.99 per person
Homemade Pasta Pans
Sauces: Vodka • Marinara • Tomato Basil • Alfredo • Spicy Tomato • Bolognese
1/2 Pan (8-10) $40
Full Pan (20-25) $79
Specialty Homemade Pasta Pans
Lasagna $49
Lobster Mac and Cheese $79
Meatballs and Sauce $49
Sausage, Peppers, and Onions $49
Baked Ziti w/ Ricotta $49
Fried Chicken
*Includes breast, thighs, and legs. Wings are free!
24pc $29
50pc $59
100pc $119
3ft Italian Hoagie
Italian meats and cheeses layered with fresh veggies.
Includes all condiments. $79
(20 person minimum)
Your Choice
2 entree, 2 sides $13.99 per person
3 entree, 3 sides $16.99 per person
Entrees
Chicken marsala • Chicken caprese • Chicken parmesan • Fried chicken • Pasta vodka • Pasta alfredo • Tomato basil cream pasta • BBQ pulled pork • Homemade lasagna • Hot Italian sausage • Eggplant parmesan • Roast beef • Baked chicken • Balsamic chicken • Homestyle meatloaf • Chicken piccata style • Meatballs with marinara • Stuffed hot peppers
Side dishes
Potato salad • Garden salad • Crispy potatoes • Pasta salad • Rice pilaf • Mac and cheese • Fresh fruit • Seasonal vegetables • Green beans amandine • Cole slaw • Mashed potatoes • Red skin mashed potato
Cheese and Meat Platter
Brie, asiago, and smoked cheddar cheeses. Prosciutto and salami. Served with candied pecans, crackers, and honey mustard dip.
Serves 10-15 $95
Cheese and Fruit Platter
Seasonal fruits and assorted cheeses. Served with crackers and honey mustard dip.
Serves 20-25 $85
Fresh Fruit Platter
(fruit will change seasonally)
Freshly cut fruits and berries. Served with a homemade honey-lime yogurt dip.
Serves 20-25 $75
Fresh Veggie Platter
Fresh cut vegetables. Served with homemade ranch dip.
Serves 20-25 $55
(15 person minimum)
Basic Box Lunch
Delicious deli sandwich served on baguette. Includes chips, fruit, and chocolate chip cookie. $9.95 per person
Maximum 2 selections per event
Your Choice
Roast ham, cheddar cheese, lettuce and tomatoes • Roast turkey, provolone cheese, lettuce and tomatoes • Roast beef, cheddar cheese, lettuce and tomatoes • Grilled vegetables, provolone cheese
Deluxe Box
Your choice of sandwich served on ciabatta, croissant, or baguette. Includes homemade salad selection and chocolate chip cookie.
$10.95 per person
• Grilled chicken breast, bacon, cheddar cheese, lettuce and tomatoes • Grilled vegetables with balsamic glaze, ricotta cheese on a baguette • Italiano - Italian meats and provolone cheese on a baguette dressed with lettuce, tomatoes, and Italian dressing
(15 person minimum)
Maximum 2 selections per event:
House Salad
Mixed greens, crisp lettuce, carrots, black olives, grape tomatoes, cucumbers, pepperoncini, cheese, and croutons. Your choice of dressing. $8.50 per person
Antipasto Salad
Mixed greens, crisp lettuce, provolone cheese, salami, capicola, pepperoni, cucumber, grape tomatoes, pepperoncini, and black olives. Your choice of dressing. $10.95 per person
Caesar Salad
Crisp romaine with shaved parmesan cheese, croutons, and creamy Caesar dressing. $8.50 per person
Chopped Salad
Chopped lettuce and romaine, diced tomatoes, diced cucumbers, bleu cheese crumbles, chopped eggs, and balsamic dressing. $10.50 per person